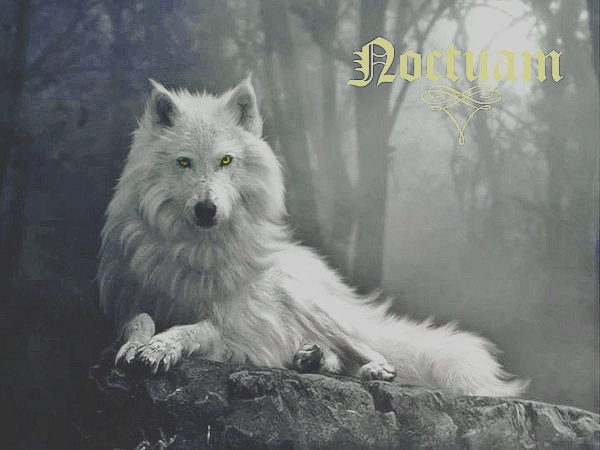 Username:Noctuam
wolfname:Noctuam
Wolf Age:3
Rank Wanted:Alpha Female
Fur color(s): Noctuam has long cream white fur that is soft to the touch.
eye color:She has piercing yellow eyes that in the sunlight turn white giving her any eerie look.
Markings:None
Build: She has a small chest with narrow shoulders. Her legs are long and she has a graceful air about her. Her tail is longer than most and when sitting it wraps fully around her paws. To accompany this her bones are lighter than most but still as strong, making her a great runner and hunter.
wolf abilities: Can cloak herself in shadow.
Limitations:Weakened by light
Personality:Noctuam is clam and collected, she is a fair judge of character.This does not make her a push over, she strong sense of drive to be fair and lead in the best possible way that she can. This makes her a very hard wolf to deal with when you get on her bad side. She will never judge someone, and instead of looking at their failing she looks at their strengths.  She has a soft spot for pups and new mothers and at times will play with little ones. She is careful who she put's her trust in, and will only do so after knowing you for so long. If you earn her trust you will find she is can be a joker. Noctuam is very closed about her past, if inquired about it she will act as if she wasn't asked or she will change the subject. Very rarely will her old life crop up in her action or voice, usually it's when she is angry at someone or worry about something. Noctuam is very clever and a fast thinker in dire situations,she has a great memory. In battle her whole demeanor changes, Anything that you thought she was is gone, she turns back to her old self, she attacks mindlessly not thinking of anything besides staying alive.
History:In Noctuam's pack there was a superstition dealing with being the sixth pup within the pack of 30. Every Sixth pup was trained to fight to the death, Brainwashed by the mentor's who were previous winner's of the Cluiche Báis. It was thought by the pack to help with the annual hunting of the bulls (elk). To the mother's of the sixth Pup's it was both a honor and a curse to have one and as a general rule did not name their pups,the entire pack referred to them as "the unseen". Noctuam's mother was a loner who joined the pack by the name of Wasser, She was horrified by this practice and in rebellion named her Noctuam or owl in her birth pack's language . The pack did not take this lightly, in fact if she were not the Alpha's mate she would have been attacked and driven out. Naming her was probably her saving grace, For the other six's they thought of themselves as just as the pack referred them " unseen". Mentor was the title they fought for, the identity they so badly wanted and longed for. Noctuam, in her mind already had an identity, though her drive was shifted from wanting an identity to wanting to live. Being the the alpha 's pup did not give her an advantage in fact it made her more of a target. Her mentor past her prime and ready to die taught her that with the new day comes new strength and new thoughts, never back down and never stop fighting, she lives by that motto to this day. So she fought and won every battle, the scars she bears are hidden by her coat, but the memories persist haunting her in her dreams. she left at the expense of her mother's life, which she will never forgive herself for.